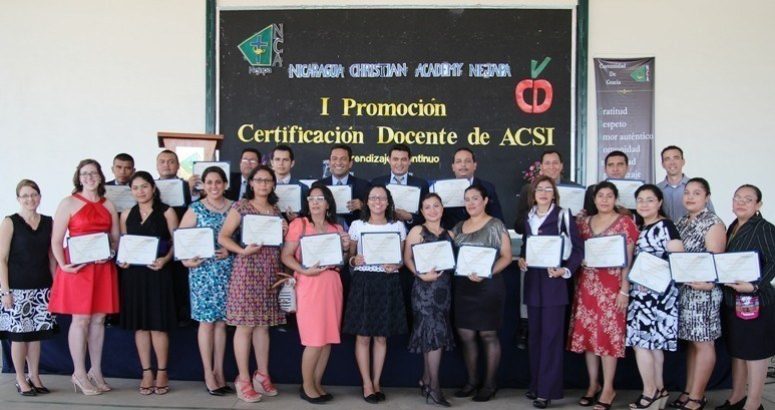 By Sarah Ternes (Administrative Development Coordinator)
Lifelong learning became the theme woven throughout this March 27 celebration, where 22 teachers and administrative staff received their teacher certification diploma from ACSI Latin America. This is the first class of teachers who have been certified through the online platform. The initiative was made possible by generous support from the Association of Nicaragua Christian Academy.
Testimonies were shared from Ana Guevara, first grade teacher, and José Luis García, high school math and physics teacher, about how the teacher certification program had impacted their perspective as Christian educators. Guevara shared, "It´s been a complex process of continual learning, and as Phillipians 3:12 says, it´s not that I have already reached the goal or that I have become perfect, but I continue on to see if I can achieve what I have been called to by Jesus. And that process begins with the teacher certification."
The ceremony was presided by Nathan Boersema, director of the Association of Nicaragua Christian Academy, and Diane Henzler, member of the NCA Nejapa subcommittee. Those present were encouraged to seek the Lord in continual spiritual learning by Director José Antonio Ruíz. His message was reiterated by Boersema, who shared the importance of creating communities of collaboration and to always have a posture of learning. Hector Gazo and Mitchell and Lauren Yoder shared their musical talents honoring God who made all of this possible. It was a joyous celebration that praised our Father from whom all blessings flow.
The event wrapped up with a delicious lunch served in the school cafeteria where teachers and administrators reminisced over the process completed.The 21 currently enrolled teachers and staff members were encouraged to continue forth in their efforts, seeing the fruit that awaits them in 2016.
Published on April 13, 2015. Written by Sarah Ternes. Photos by Carmen Baltodano.