1/8/2019
NCA International
---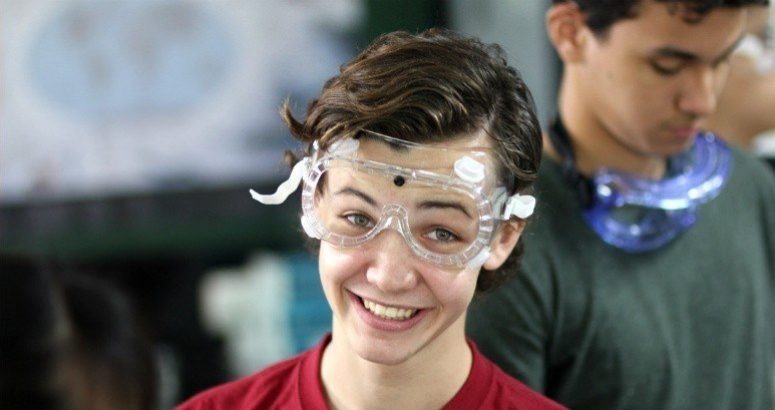 By Jessica Stuebner (NCAI Science Teacher)
For many years, secondary science teachers dreamed of having a real science lab. During the past two years, we have been able to watch that dream become reality! The project started as Eric Loftsgard, Paul Sjoberg, and Jessie Stuebner began drawing up some impressive designs.
There were so many elements to consider. With growing class sizes, we needed more sinks and gas hook-ups. With a growing inventory of lab supplies, we also needed more storage space. We wanted counters to leave experiments on so they would not take up classwork space. We wanted all students to be facing forward in chairs with backs. The old science classroom had three long counters, each cemented to the ground and containing one sink. Students sat on uncomfortable, backless stools, half of which faced the back of the room. It was crowded! It was tough to focus! Lab cleanup seemed to take forever because there just were not enough sinks! There were many obstacles to the good use of instructional time, and change was long overdue.
We wanted many things, and by God's amazing provision, we got almost all of them, including a sliding white board and more class sets of fun lab supplies! While the room was not completely finished until this past summer, we began holding classes there midway through last school year. Students were thrilled to see all the changes! During Physical Science, students mixed chemicals and left them for days in the back of the room to watch the slow reactions. When it was time to clean-up, there was no fighting for faucets. During Physics, students had enough space to conduct experiments on the tables instead of the floor as in previous years. In Chemistry, the additional gas outlets allowed students to have great hand-on experiences with Bunsen burners. These are just some of the benefits we have experienced so far, and we are excited to see what else we will be able to do!
Published on January 8, 2019. Written by Jessica Stuebner. Photos by Jessica Stuebner and Will Van Zoest.